Over the last week, new US Covid infections have dropped to an average of more than 74,000 per day. This is a 57 percent decrease from the delta wave's peak of 172,500 new cases per day on Sept. 13.
According to data compiled by Johns Hopkins University, the downward trend has stalled in recent weeks, with new cases bouncing between 70,000 and 75,000 per day for nearly three weeks.
While this is certainly good news, the downward trend has leveled off in recent weeks, making everyone wonder what is stopping the cases from decreasing furthermore.
According to Johns Hopkins, the daily death toll has remained elevated, with more than 1,200 fatalities per day reported over the past week, an increase of 1% from the previous week.
Cases have dropped sharply in the South, where the delta wave struck first and hardest this summer, with average daily infections in the region down by about 84 percent from peak levels and continuing to fall.
The drop has been so dramatic that Florida, where hospitals were overrun as it battled one of the nation's worst Covid outbreaks this summer, is now the state with the fewest average daily new cases on a population-adjusted basis. This means that US Covid 19 hotspots have shifted away from much of the South to other areas.
Judge rules Texas Gov. Greg Abbott's ban on school mask mandates violates federal law
Indoors Vs Outdoors- the Effect on Us Covid 19 Cases
Other Southern states that experienced significant delta wave spikes, such as Georgia, Louisiana, and Mississippi, rank in the bottom ten in terms of daily new cases per capita.
In the South, hospitalizations and deaths are also on the decline, the region has the lowest seven-day average of 112 Covid patients per 1 million residents in the country.
They came from a very high spot, so we had our spike a little bit earlier, Dr. Sonja Rasmussen, a professor of pediatrics and epidemiology at the University of Florida College of Medicine, said of her state's declining cases.
She noted that the cooler fall and winter temperatures in Florida's typically tropic climate allow Floridians to spend more time outside, where the virus does not spread as easily as it does indoors.
I think they're starting to see some seasonality – maybe not winter-spring as we see with flu, but more when people are indoors versus outdoors. They were more indoors in Florida during the hot summer months, and now they have the opportunity to be more outdoors.
The Surge in Us Covid 19 Cases
Outside of the United States' southern states, things are going in the opposite direction. Over the last two weeks, cases have increased by 25% in the Midwest, 18% in the Northeast, and 4% in the West. Hospitalizations, which follow reported infections, are down 9 percent in the Northeast but largely unchanged in the Midwest and West over the same period.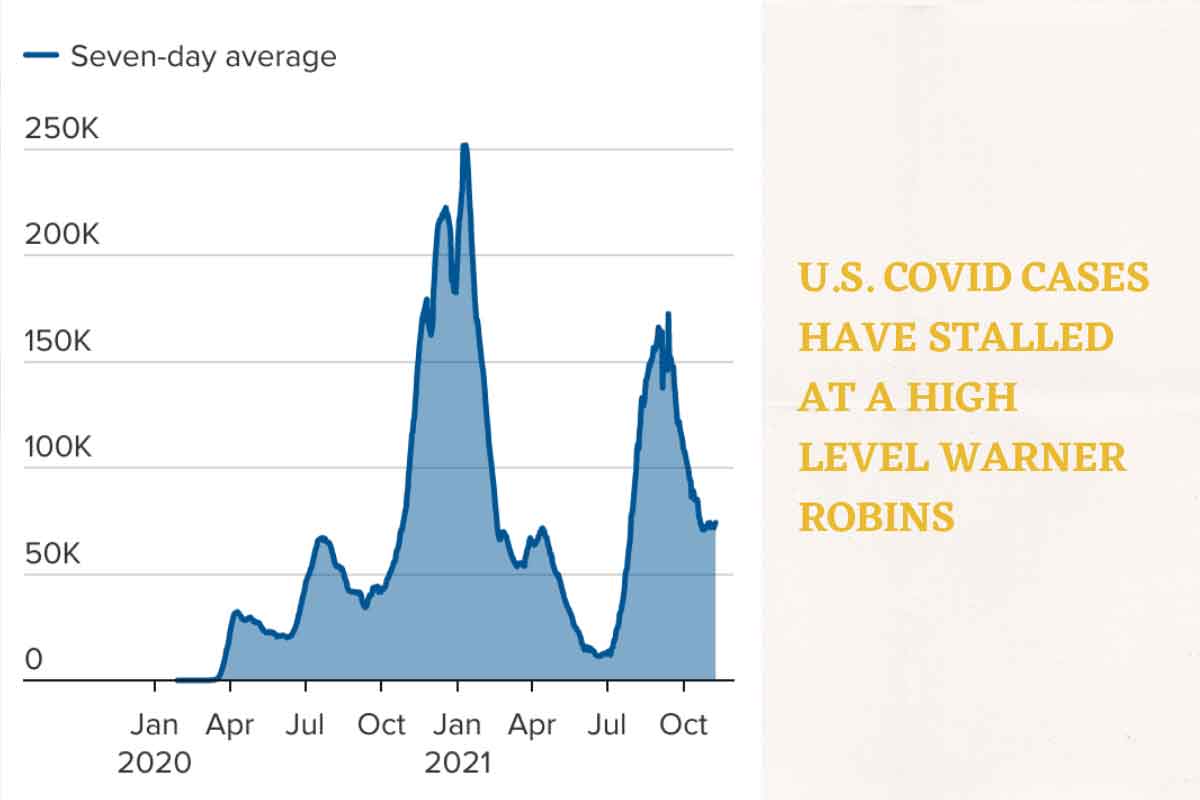 The Midwest now has the highest rate of daily new cases per capita, with states such as Nebraska, Minnesota, and Wisconsin driving the recent increase.
According to a tweet from the state's health department on Tuesday, the current number of cases in Minnesota is among the highest we've seen so far in 2021, with an average of about 3,000 per day. Unfortunately, the pandemic is far from over.
Population-adjusted cases are highest in the West, with increases of 15% or more in New Mexico, Colorado, and Arizona over the last 14 days.
Packed Ers
According to Dr. Jonathan Samet, dean of the university's public health school and leader of its Covid modeling group, the University of Colorado's hospital was at capacity last week due to a combination of the disease and all the reasons that people go to hospitals.
When he talks to his clinical colleagues, things are full, the ERs are packed, noting that his system can meet current demand but has little room to grow beyond that. Colorado Gov. Jared Polis said that emergency orders allow hospitals to transfer patients to other facilities if necessary, but that hospital reserves or beds are at a lower point than during our big surge a year ago.
On Oct. 31, Polis issued an executive order allowing the state's Department of Public Health and Environment to require hospitals that are at or near capacity to stop new admissions and transfer patients to other medical facilities. In addition, state health officials can now direct hospitals to accept patient transfers.
According to HHS data, Colorado uses about 85 percent of staffed intensive care unit beds statewide, ranking seventh among all states. Covid patients account for approximately 36% of those beds, ranking fourth.
Vaccines for Us Covid 19
Samet said the recent outbreak was fueled by a combination of colder weather and low vaccination rates in some parts of the state. Vaccination is a patchwork in many states, Rural areas have lower vaccination rates. Also, they have the highest number of cases and hospitalization rates right now.
Samet, on the other hand, couldn't pinpoint why Colorado was experiencing a particularly severe Covid spike in comparison to other states. Population-adjusted cases are nearly twice as high in Colorado as in neighboring Kansas, though other neighboring states such as Wyoming, Utah, and New Mexico are also experiencing unusually severe outbreaks.
The unvaccinated are the drivers, as they are in many other places. But, you know, they're not different from other states in having a significant proportion of people who are still unvaccinated and are propagating the epidemic.
We know that the unvaccinated are dangerous, but that doesn't explain why Colorado has a high number of cases at this time.
Rasmussen, the University of Florida doctor, also cited low vaccination rates as reasons to believe that Florida and neighboring states such as Mississippi, Louisiana, and Alabama are still at risk for future outbreaks, despite any immunity residents may have developed as a result of the summer delta surge.
Their vaccination rates are not high enough to give the confidence that they won't see continued outbreaks when people get together, particularly in areas with lower vaccination rates.
'Spencer' Official Trailer: Kristen Stewart is a Best Actress Oscar Frontrunner
Florida's 60.2 percent of fully vaccinated residents is a couple of percentage points higher than the national average, though Rasmussen noted that many counties have lower rates.
According to the Centers for Disease Control and Prevention, Alabama, Mississippi, and Louisiana are all in the bottom ten states in terms of complete vaccination rates, with 45.2 percent, 46.2 percent, and 48 percent, respectively.
Covid Pills
Further advancements in treatments and vaccinations may assist Covid in becoming an endemic virus, which means that it is not completely eradicated. But it becomes more manageable and part of the respiratory viruses that the country deals with every year.
New antiviral Covid pills, for example, from Merck and Pfizer, could help prevent infections that result in hospitalizations or deaths. Pfizer's new treatment is not a replacement for vaccinations, but it may provide greater protection for people who are at high risk of severe Covid complications.
When you have therapeutics that are this effective, that can be a backstop for people who don't respond to vaccines, people who have breakthrough infections – pills are being studied in that setting. It truly serves as a deterrent to death and disease caused by this infection.
Pfizer released data on a Covid pill that reduced the risk of hospitalization and death by 89 percent in high-risk adults when combined with an HIV medication to keep it working longer in the body.
Merck and Ridgeback Therapeutics announced in October that their antivirals reduced the likelihood of hospitalization and death in patients with mild or moderate Covid cases by 50%.
Joe Biden Takes an Action to Prevent Us Covid 19
The start of President Joe Biden's workplace vaccine mandates, enforced by the Occupational Safety and Health Administration, may also boost vaccination rates in the United States. By January 4, all businesses with at least 100 employees must ensure that their employees are fully immunized against Covid.
And any employee who refuses to comply must wear a mask and be tested regularly. OSHA's mandate will affect approximately 84 million private-sector workers, but the new rules are already being challenged in court.
Covid vaccines have recently been approved for children aged 5 to 11. Last week, CDC Director Dr. Rochelle Walensky approved Pfizer's vaccine, paving the way for shots to be administered to younger children.