OreGairu also known as My Teen Romantic Comedy SNAFU, is a romantic, comedy anime television series, inspired by the light novel series written by Wataru Watari and illustrated by Ponkan8. Apart from anime adaptation, the novel has a total of three manga adaptations as well along with 2 anthology volumes. The novel consists of a total of 14 volumes plus 4 short side stories.
The series follows the main character Hachiman Hikigaya who is a close-minded pessimistic teen being pressured by his teacher to join the service club of school and coordinate with girls to work with hurdles of their own. Their main role is to provide help and suggestion to other while coping up with their inner conflicts. 
The first season of the anime series aired on 4th April 2013 and concluded on 27th June 2013, the series then renewed for a second season which premiered its first episode on 2nd April 2015 and lasts on 25th June 2015. The third season aired on 9th July 2020 and concluded on 24th September 2020. The first and second season has 13 episodes each whereas the third season consists of 12 episodes. 
Young Royals Season 2 Release Date Cast Plot Trailer and latest news
Season one of the series was directed by Ai Yoshimura and produced by Brain's Base, the second and third season was directed by Kei Oikawa and produced by Feel. The series won millions of hearts and fans are still waiting to see if there is OreGairu Season 4. The series has a rating of 7.9 out of 10 on IMDB.
We have got everything we know so far about OreGairu Season, read out the full article to catch all the latest updates.
OreGairu Season 4 Release Date
There is no confirmation from the team of the series about the production of season 4 of the series, also the matter of concern is that all the three seasons covered all 14 volumes which mean nothing left to adapt in the fourth season because it was said that the end of the third season was the climax. Though there is one final OVA that is yet to be released next year so if there is any chance of the renewal of the series for a fourth season it will not be before 2022.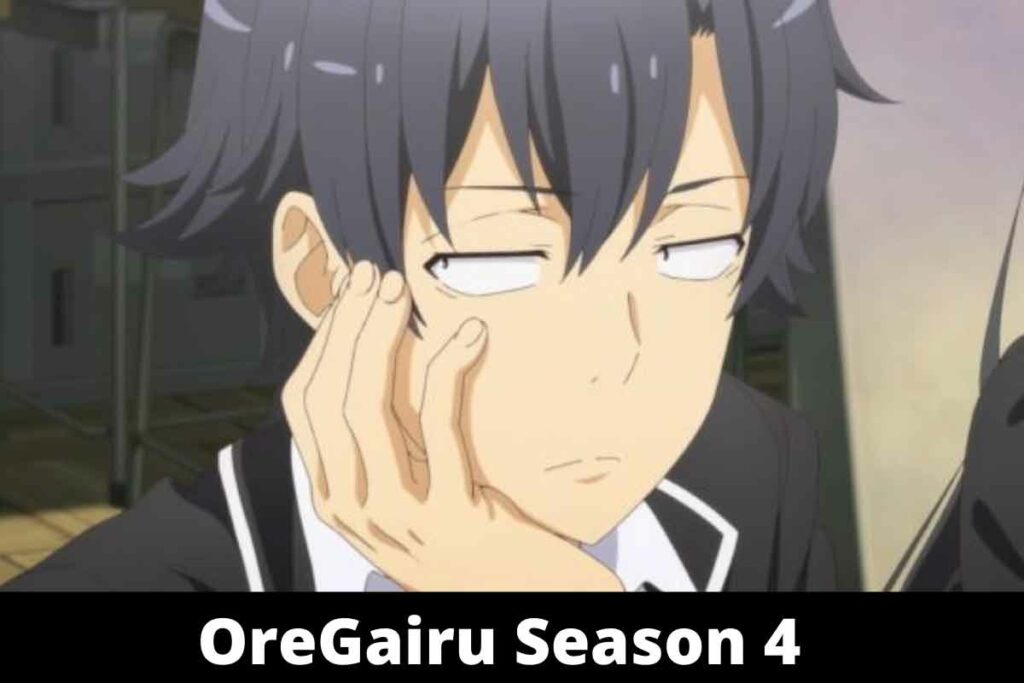 OreGairu Season 4 Cast
There may be no season 4 of the series but in case the series gets renewed we may see the below-mentioned characters in the main role.
Hachiman Hikigaya voiced by Takuya Eguchi in Japanese Adam Gibbs in English

Yukino Yukinoshita voiced by Saori Hayami in Japanese Melissa Molano in English

Yui Yuigahama voiced by Nao Tōyama in Japanese Cat Thomas in English

There can be additional characters also seen in the fourth season, catch their names below.

Saika Totsuka voiced by Mikako Komatsu in Japanese and

Margaret McDonald in English

Hayato Hayama voiced by Takashi Kondō in Japanese and Scott Gibbs in English

Yumiko Miura voiced by Marina Inoue in Japanese and Christina Kelly in English

Hina Ebina voiced by Nozomi Sasaki in Japanese and Natalie Rial in English

Saki Kawasaki voiced by Ami Koshimizu in Japanese and Teresa Zimmermann in English

Kakeru Tobe voiced by Chado Horii in Japanese and Gareth West in English

Ōoka voiced by Minoru Shiraishi in Japanese and Daniel Regojo in English

Yamato voiced by Yoshihisa Kawahara in Japanese and Orlanders Jones in English

Minami Sagami voiced by Minako Kotobuki in Japanese and Caitlynn French in English
We can also see some other recurring characters like Iroha Isshiki, Shizuka Hiratsuka, Komachi Hikigaya, Haruno Yukinoshita, Yoshiteru Zaimokuza, Rumi Tsurumi, Meguri Shiromeguri, Taishi Kawasaki, Kaori Orimoto, Chika Nakamachi, Tamanawa, Mrs. Yukinoshita and Mrs. Yuigahama.
OreGairu Season 4 Plot
As we all know, the makers had confirmed that the third season will be the final season of the anime series but still if they decide to have a second opinion then we expect the story will continue from where the story left us at the end of third season. So before getting into the synopsis of season 4 let's take a quick sneak peek into the ending of season 3. 
Bangkok Breaking Season 1 Release Date, Plot, Cast, Trailer, And More
Since the end of the third season was declared as a climax to wrap up the entire series, it left us off concluding the relationship among Hachiman, Yukinon, and Yui along with the resolution of the issues of Yukon. Hachiman later comes to confess what he feels for Yukino and the same happens with Yukino also.
They both understand that both of them have a mutual feeling for each other and they will make a confession later about their feelings. In the meanwhile, Yui learns that she can never be loved by Hachiman and he just sees her as a friend, and all she can do is grieve in the corner.
We expect the story to continue and get more deeply into the lives of characters further, season 4, if it happens, may probably focus on the life after graduation of our characters.
OreGairu Season 4 Trailer
There is no trailer released for season 4, whether it will happen or not this is also not confirmed. We hope to hear from the makers soon.
Conclusion
We want to be very honest with our audience and there are very few possibilities that OreGairu Season 4| will happen, but let's hope for the best.