This Is Us is an American family television drama series created by Dan Fogelman. The show first premiered on 20th September 2016 on NBC and received a lot of good reviews and has an 8.7 rating out of 10 on IMDB. The story revolves around the livelihood and families of two parents and their three children in multiple different stages of life. The first season consisted of eighteen episodes and just after a few months of the release of the first season, NBC renewed the series for the next two seasons of 18 episodes each in January 2017. After getting lots of positive responses, the show was renewed for further three seasons in May 2019. The fifth season of the series first premiered on 27th October 2020. The third and fourth seasons also had 18 episodes whereas the fifth season had 16 episodes. 
This Is Us is filmed in Los Angeles and a few sections are filmed in New York City.
So, everyone out there who loves to watch family series must be waiting for the renewal of the series for the sixth and final season and we have got everything we know so far, read out the full article to catch all the latest updates.
Violet Ever Garden: The Movie On Netflix: Get To Know The Release Date Here 
This is Us Season 6 Release Date
In May 2021, NBC confirmed the renewal of This Is Us for the sixth and final season. Most probably the final season will premiere by the second or third quarter of 2022 on NBC and will consist of 18 episodes.
This is Us Season 6 Cast
As confirmed that this is the last season of the series and then it will be a wrap up for the "This Is Us" so, we may expect all the main characters to return from the previous seasons. Of course, in addition to the mentioned characters, we may expect to see some faces as supporting and guest characters.
Below are the casts who are sure to be seen in season 5.
Mandy Moore as Rebecca

Milo Ventimiglia as Jack

Sterling K. Brown as Randall

Justin Hartley as Kevin

Chrissy Metz as Kate

Susan Kelechi Watson as Beth

Caitlin Thompson as Madison

Chris Sullivan as Toby

Jon Huertas as Miguel

Eris Baker as Tess

Griffin Dunne as Nick

Faith Herman as Annie

Lyric Ross as Deja

Lonnie Chavis as young Randall

Mackenzie Hancsicsak as young Kate

Parker Bates as young Kevin

Logan Shroyer as teen Kevin

Hannah Zeile as teen Kate

Rachel Hilson as teen Beth

Niles Fitch as teen Randall
We would also like to let you know that based on what happened in the finale episode of season 5, Kate's Boss Phillip will also be seen again and William may also re-emerge in some way. But there is no official confirmation regarding this.
Wentworth Season 9: Release Date, Cast, Trailer, Plot and More
This is Us Season 6 Plot
Before talking about what can happen in season 6 let's first rewind what happened in the season 5 finale episode. At the end of Season 5 of "This Is Us" we see that Madison and Kevin call it quits and give up on each other just before their wedding. On the other hand, Rebecca comes to know that she isn't left with many days after her Alzheimer's diagnosis, So, she asks Kevin to construct the house which his father wanted to construct before his demise. Kate and Toby arrive at crossroads in both their professional and personal life. A flashforward discloses that Kate is married to Phillip.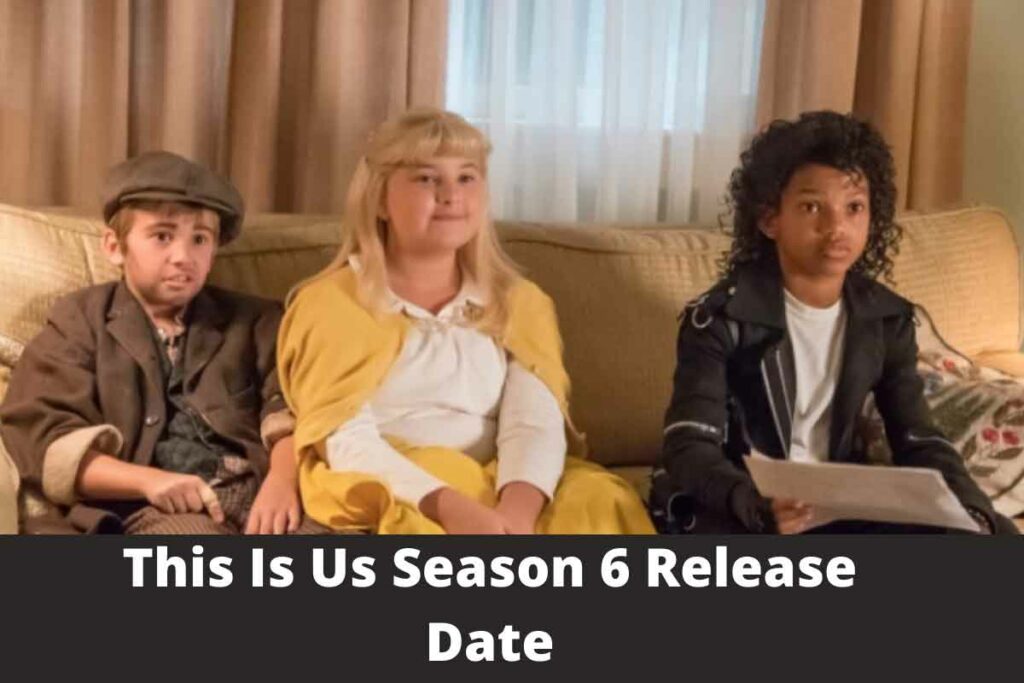 The concluding season will certainly clear all the arising questions on the audience's mind. We may expect to see how Toby and Kate moved away from each other and how Rebecca is spending her final days of life. We may also get to know about the identity of the person with whom Kevin agreed to share a room in the hotel at the end of the last episode of season 5. Fogelman has joked that the last season will be having more flash-forwards so that they become able to wrap up the story fast and also joked on the love life of Kevin and indicated that his romantic life may play a key role in the happenings of season 6. He also confirmed that season 6 will be the answer to all the speculations and everything will be resolved at the end.
This is Us Season 6 Trailer
As we all know, the series is supposed to premiere by the mid-season of 2022 so definitely, we cannot expect any trailer as of now but probably we will get some glimpse in early 2022 hopefully since the filming already began. 
Conclusion
We do not doubt that the final season will leave us emotional and won't fail to impress their fans. We will keep you updated about every latest information we get regarding season 6 of "This Is Us".