School of Rock, one of the widely renowned comedy classics, will finally stream on Netflix after waiting for so long.
School of Rock is an American comedy film that premiered in theaters in 2003.  Written by Mike White and directed by Richard Linklater, School of Rocks follows Dewey Finn (Jack Black), a struggling guitarist. He was part of a reputed band. His struggles commence when his band drives him away, and he has to take a job in a private school due to meager money.
Viewers received the movie very well. Critics praised it for the story, dialogues, humor. They also praise Jack Black for his commendable performance. Even Jack was also nominated for the Gloden Globe award for Best Actor – Comedy or Musical.
The film was also nominated for several accolades and managed to win  Best Comedy Film at the British Comedy Awards.
It was under top ten movies for six weeks since its release in 2003. The film had generated a revenue of  $131 million worldwide against the production budget of just $35, making it the highest-grossing music-themed comedy of all time until 2015.
Everyone has not seen this epic comedy film. But thanks to Netflix. Now it will stream on Netflix so that anyone can easily watch it.
 Let's talk about other details like cast, characters, storyline, and more.
The Release date of School of Rock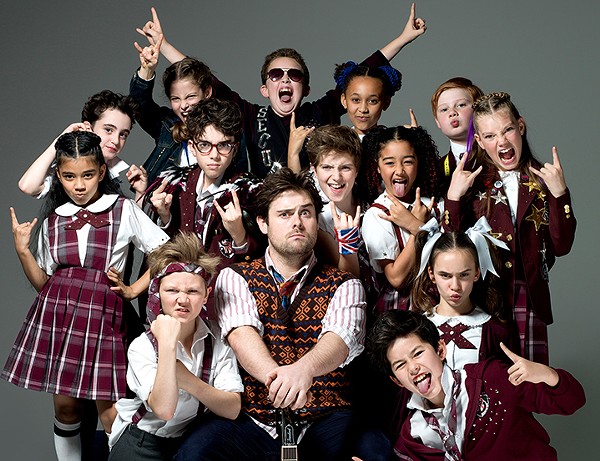 Netflix officially confirmed that School of Rock air on Netflix on Wednesday, Sept. 1, 2021, for the first time. The streaming giant further reveals the timing as well. It will land on Netflix at 12:01 a.m. PT and 3:01 a.m. ET. So, mark your calendar according to not to miss the classic among other upcoming shows on Netflix.
The Cast of School of Rock
The following characters have contributed to produce the comedy classic.
Jack Black as Dewey Finn

Miranda Cosgrove as Summer 

Rivkah Reyes as Katie

Joan Cusack as Principal Rosalie

Sarah Silverman as Patty Di Marco

Joey Gaydos Jr. as Zack 

Mike White as Ned Schneebly

Robert Tsai as Lawrence 

Kevin Clark as Freddy

Maryam Hassan as Tomika

Caitlin Hale as Marta 

Z Infante as Gordon 

Aleisha Allen as Alicia

Brian Falduto as Billy 

Cole Hawkins as Leonard 

James Hosey as Marco 

Jordan-Claire Green as Michelle

Angelo Massagli as Frankie 

Adam Pascal as Theo

Veronica Afflerbach as Eleni 

Lucas Babin as Spider 

Lucas Papaelias as Neil
The Plot of School of Rock (Spoiler Alert)
The story revolves around an ill-fated musician, Dewey Finn. His complex journey began when he got kicked out of his band due to failed dive during the performance. He became jobless and was sharing an apartment with his friend Ned and Ned's girlfriend. One day he found he is in debt. If he did not earn, he could be homeless soon. 
Meanwhile, he got a job offer to be a school teacher in a private school. He did not want to take it, but due to his financial difficulties, he accepted it.
But when he found that the students are extremely talented, he deviated from the classic to teach rock music to the students covertly. He decided to form a band with the school student without telling the school authorities and the parents of the children. He wanted to participate in the local band contest with a $10,000 winning price. The money not only help him financially, but he could establish himself as a rock star with the winning.
Will he participate in the contest? Will they win it? Will authorities from the school get to know about his plan? 
Well, I will not spoil this. Watch it and find it yourself.
Trailer of School of Rock
The 2 min 29-sec trailer will give you a glimpse of the upcoming movie.
Watch the fun trailer here.
Nowadays, it is rare to get good comedy movies which you can watch with your families. Well, that is not the problem with this comedy classic. Enjoy it with your family, and let me know your views in the comment section.