Sony has announced the ZV-E10, an APS-C interchangeable-lens camera that the company hopes will meet the needs of vloggers.
The camera brings many of the ZV-1's fixed-lens features to a larger sensor format. Including focus shortcuts and exposure settings that vloggers may need to access quickly.
Being a bigger camera, there are also some important features that the ZV-1 didn't have the space to accommodate, such as a headphone port, better battery life, and a larger sensor with greater flexibility in depth of field.
And while the ZV-E10 addresses many of the complaints found with the ZV-1, the ZV-1 still has one feature the new camera doesn't have: hardware-based image stabilization.
And the ZV-1 included a stabilizer built into the lens. But the ZV-E10 only provides electronic stability. It also has the ability to log gyro sensor data into metadata that can be used when post-processing stabilization is applied. The ZV-E10 offers a 24.2-megapixel sensor with a native ISO range of 100-32000 with eye-tracking and target AF provided by both the ZV-1 and the latest Sony interchangeable-lens cameras.
It also includes a useful Bokeh Switch mode for vloggers from the ZV-1. Which switches the aperture to blur or focus the background. In addition, there is a Product Showcase mode for applying the most appropriate AF settings for viewing products via the camera.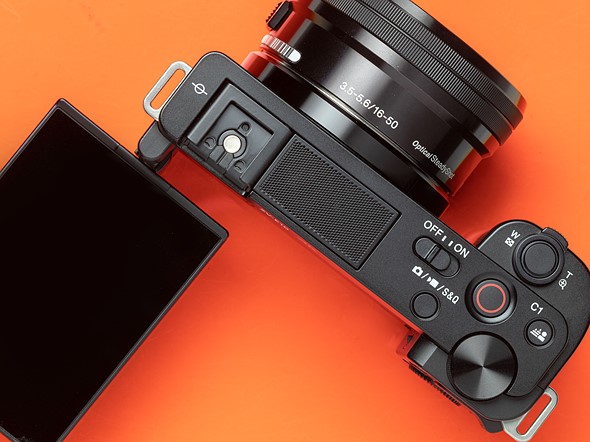 Sony ZV-E10 Camera is Coming for Vloggers
Moreover, the camera includes a fully articulated touch screen for easy operation from the front of the lens.
4K video is recorded at 30 frames per second. Hybrid log-gamma, S-Log2, and S-Log3 profiles are included for videographers who plan to label shots after they've been taken. 1080p slow-motion footage can be recorded at 120 frames per second.
The camera includes a microphone, a 3.5mm headphone jack. And a built-in triple directional microphone with a windscreen included in the box. USB live streaming is supported for phones running Android 11, although it is not yet available with iOS devices.
The company explains that the ZV-E10 can record video for up to 80 minutes on a single battery charge. Which is nearly double the ZV-1's 45-minute recording time. Sony will put the ZV-E10 on sale in August for $699 with the body or $799 with the 16-50mm lens.