It seems like forever since we saw Nadia's 36th birthday party over and over again: Russian Doll Season 2
We are talking about dark comedy, the Netflix series Russian doll. The show is streaming on Netflix, created by Natasha Lyonne, Leslye Headland, and Amy Poehler. The initial season premiered on Netflix on February 1, 2019, and was immediately renewed for season 2 a few months later. However, Netflix has been quiet on the topic since then. We have come up with the latest news about Russian Doll Season 2, including its plot, cast, trailer, release date, and so much more.
Russian Doll Season 2 Release Date
The series was renewed for the sequel season in June 2019, four months after the first season premiere date. Showrunner Leslye had not confirmed anything else ever since. In February, we got some update that Schitt's Creek star Annie Murphy would join the cast for season 2, which hints that season 2 might be coming anytime soon.
Season 2 was initially planned for spring 2020, which stopped due to the coronavirus pandemic. So it has been over two years since we saw the dramedy.
According to the sources, it has been confirmed that season 2 is under production. If that is so, we might witness Russian Doll Season2 by spring 2021. However, until Netflix or the show producers do not authorize everything, we would not want you to put any hopes on any dates.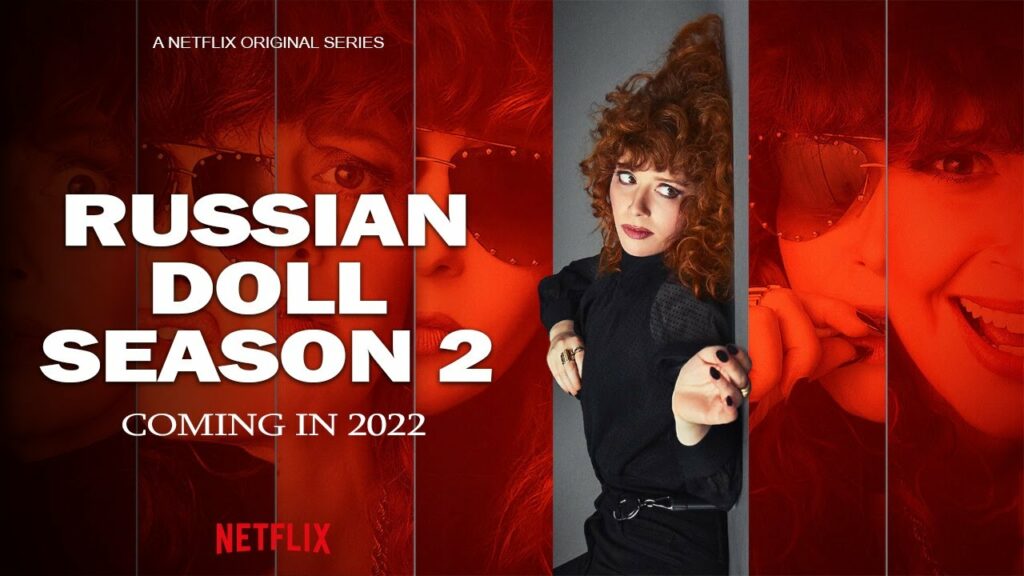 Russian Doll Season 2 Cast
The cast for Russian doll season 1 was the following:
Natasha Lyonne as Nadiya Vulvokov

Greta Lee as Maxine

Elizabeth Ashley as Ruth Brenner

Charlie Barnett as Alan Zaveri

Yul Vazquez as John Reyes
Brooke Timber and Kate Jennings Grant portrayed child Nadiya and young Ruth.
Apart from the main cast Jeremy Bobb, Dascha Polanco, Brendan sexton II, Ritesh Rajan, Rebecca Henderson, Max Knoblauch, Yoni Lotan, Burt Young, and Ken Back appeared as recurring cast members.
As of now, the whole cast of season 1 is returning for season 2. 
We might also witness two new cast members, Schitt's Creek star Annie Murphy and District 9's Sharlto Copley. Unfortunately, the details of new characters have not been released yet.
Some other sources say that Carolyn Michelle Smith from House of Cards will also add to the show.
What is the Plot of the Russian Doll?
Russian Doll is a dark comedy situated inside a time loop. Unlike traditional television series, this show did not at first establish itself. Instead, we were introduced to the characters and the plot eventually and suddenly, and as the show evolved, we figured everything out finally. 
The show portrays Nadia, a cynical young woman who is also a game developer. Nadia's 36th birthday party came out to be a disaster as she died on the same day and was plunged back right to her birthday party only to relive her birthday night in an eternal loop until she finds who killed her in the first place. She had to repeat the same conversations with the same friends and follow the same events repeatedly. Soon, she realizes that the only way of coming out of this time loop is to solve its mystery. In the midway of her investigation, she discovers Alan, who was also experiencing a time loop. Together they team up to find out if they are connected and who is behind the mystery.
The ending of season 1 won the show 4 Emmy nominations and multiple wins in multiple categories.
As of now, no storylines for Russian Doll Season 2 have been released or hinted or discussed. But since season 1 was on its own, the following season might go in a different direction. Even if the plot directs somewhere else, it would be as exciting and mysterious as season 1.
How Many Episodes are in Russian Doll Season 2?
Season 1 of Russian Doll contained eight episodes with an average run time of 24 to 30 minutes. As of now, no official episode count has been announced, but it looks like season 2 will follow the same pattern as season 1.
Trailer
As we know, the show is under production; we might witness a full-blown trailer teaser anytime soon. However, no trailer is released as of now.
We will update this article with the official release date and trailer for season 2 as soon as showrunners announce the official dates. Do not forget to visit us for the details of Russian Doll season 2.