The follow-up show of the famous Star Trek: The Original Series, Star Trek: Discovery, has been renewed for the 4th season. Discovery Season 4 was officially announced in October 2020. However, due to covid protocol, the show has been in process for so long. So, let us see what we have for you for the show.
Star Trek: Discovery Season 4 Release Date
Discovery season 4 was renewed when season 3 was already in its process. A day after season 3 debuted, confirmed October 16, 2020, season 4. The filming began a month later, on November 2, 2020. As for the official release date, it is still not confirmed.
" Well, we're plodding along. We are getting things shot, and it's going beautifully. It's just going a bit slower because of Covid protocols." said star Doug Jones.
The filming process has been going on in Toronto, Canada, which has been started and stopped multiple times because of the ongoing pandemic. The production is all set to end in August or September 2021 if everything goes well. If that happens, we might get Discovery season 4 by the end of 2021 or January 2022.
Star Trek: Discovery Season 4 Cast
The main cast of Star Trek: Discovery is: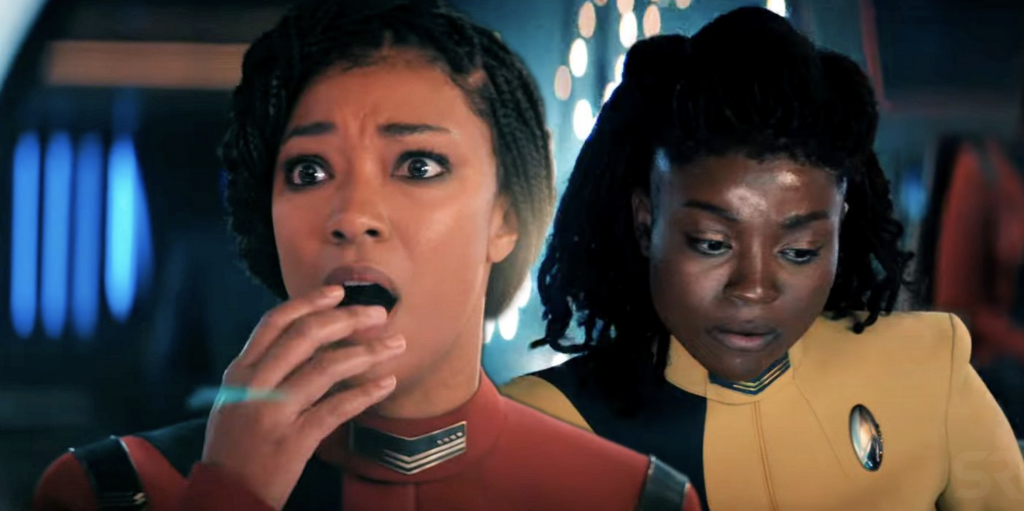 Sonequa Martin-Green as Michael Burnham

Anthony Rapp as Paul Stamets

Wilson Cruz as Hugh Culber

Doug Jones as Saru

Mary Wiseman as Sylvia Tilly 

David Ajala as Cleveland "Book" Booker

Blu del Barrio as Adira Tal

Ian Alexander as Gray Tal
Some guest stars in the show are David Cronenberg as Kovich, Oded Fehr as Charles Vance, and Tig Notaro as Jett Reno.
Star Trek: Discovery Season 4 Plot
The show is still under production for season 4. So, we cannot surely say what will happen for season 4. But now that season 3 is done, we can guess our theories for the show. The fourth season of the American television series Star Trek: Discovery follows the crew of U.S.S. Discovery and the show's events follow the 900 years ahead story after Star Trek: The Original Series. 
In season 3, the crew had to rebuild the remains of the galaxy after it was hit by 'The Burn.' This invincible anomaly destroyed the federation and revealed its cause in the season finale, setting up an expected plot for season 4. 
Season 3 also introduced the first trans actor to the Star Trek franchise, Ian Alexander as Gray. 
"I am really grateful because this is opening the door for so many other people." Said, Alexander. "Trans people have been erased from history for so long, but we've always been here. Now we finally get to be visible and have our voices heard. It's empowering to know how much safer the world is becoming for us." he added.
Alexander as Gray is also returning for season 4 as his character will be significantly involved in season 4. 
Alex Kurtzman and Michelle Paradise, the showrunners, have also confirmed that season 4 will continue using the more episodic structure of season 3 rather than the long season arcs of Seasons 1 and 2.
Star Trek: Discovery season 4 plot will undoubtedly explore more with the crew upcoming in their shiny grey uniforms. The show will explore themes like action, adventure, drama, and science-fiction, and for the Spock fans, there is a lot more coming.
Star Trek: Discovery Season 4 Trailer
The first Star Trek: Discovery trailer has arrived. It showcases the crew and its new captain facing the gravitational anomaly that seems to damage Discovery's bridge. 
Although the full-blown trailer is yet to come as the production is still ongoing.
If the production is over by September 2021, the official trailer will be up by November 2021.
We will update this article as soon as any update arrives.
The show will stream on the official C.B.S. television network, and Paramount subscribers can stream it there.
FAQs
Does Star Trek: Discovery take place before The Original Series?
The first episode of Star Trek: Discovery takes place a decade before the events of the original series.
Who was the captain of Enterprise before kirk?
Kelvin Timeline U.S.S.
Is Enterprise more powerful than Discovery?
The Enterprise is much older, but it has a lot more firepower.