Morwyn Brebner is all set to release the fourth installment of her highly appreciated mystery drama Coroner this year. Fans have been waiting for this update for a year now, and the good news is that it is finally returning. The series is based on the best-selling novel of M R Hall based on the life of Jenny Cooper. The series first made a debut on the television screens in 2019 and has released three seasons yet. The show has received tremendous response from the global audience, making it score 6.8 on IMDb. The show has also received the Canadian screen awards in the "best direction in a drama series" category. Here we have brought you all the updates of Coroner Season 4, including the release date, storyline, and trailer.
Coroner Season 4 Release Date
Good news for all you fans that CoronerCBC has confirmed season 4. Coroner Season 1 appeared on January 7, 2019. This April 3rd season of the show concluded. Ever since then, the fans were demanding a renewal for season 4. 
CoronerCBC put a tweet on June 22 saying that they are coming back next winter with 12 episodes. Anticipating from the tweet and the release schedule of previous seasons of Coroner season 4 will likely come in January 2022.
Coroner Season 4 Cast and Characters
The creators have not yet confirmed the cast of season 4. But if we see from the previous seasons, we expect that the same caste would be returning on the screens. We might also see some new characters in the show depending on the new storyline.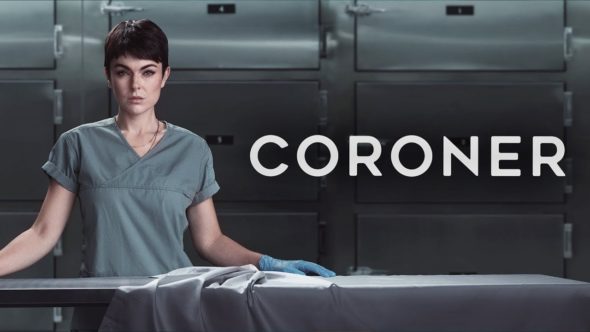 We have seen the following faces yet.
Serinda swan as Jenny Cooper

Eric Bruneau as Liam Bouchard

Roger Cross as Det. Donovan "Mac" McAvoy

Saad Siddiqui as Dr. Neil Sharma

Andy McQueen as Det. Malik Abed

Mark Taylor as Clark Coleman

Uni Park as Dr. Melanie Lum Davis

Olunike Adeliyi as Noor Armias

Kiley May as River Baitz

Lovell Adams- Gray as Dr. Dwayne Allen

Nicola Correia Damude as Kelly Hart

Ehren Kassam as Ross Kalighi

Alli Chung as Det. Kaylor Tim

Nicolas Campbell as Gordan Cooper
Coroner Season 4 Plot and Storyline
Coroner with the tagline, everybody has a story that follows the genres drama and mystery. The synopsis reads as "A newly appointed Coroner investigates a string of mysterious deaths in Toronto."
The show is based on the life of Jenny Cooper (played by Serinda Swan), who was working as an emergency room doctor, and as she becomes a widow, she starts her new job as a Coroner. In this police procedural drama, Jenny works with Detective Donovan "Mac" McAvoy (played by Roger Cross). 
As he is still grieving her loss, she struggles with mental health issues as she tries to raise her son as a newly single parent.
In the last episode of season 3, Jenny and Donovan were seen in a dangerous location. We expect season 4 to pick up from where the story is left in season 3.
We anticipate that the theme will remain the same, and Jenny will, as usual, work on the investigation of unusual deaths in Toronto. The next will be as enjoyable as all the previous ones, and it may unravel more suspicious mysteries.
Coroner Season 4 Trailer
Although CoronerCBC has shown a green flag to Coroner Season 4, we have not received any expected storyline or trailer. With the confirmation of season 4, we have only got the episode count of the new season.
The show has been a hit and the winner of multiple awards. We will update this article as soon as we get anything new from our readers.
Comment below to tell us how excited you are about Coroner Season 4.
FAQs
How did Jenny Cooper become a widow?
Jenny's husband died from aneurysm. Soon she discovers that deaths in Toronto are not usual, which makes her a coroner.
Is Coroner Season 4 coming?
CoronerCBC has confirmed season 4 by next winter.
Where will we watch Coroner Season 4?
You can watch Season 4 on CBC.