The name associated with the foundation of McAfee antivirus software- Cybersecurity tycoon John McAfee, allegedly committed suicide in a Barcelona jail on Wednesday.
The 75-year-old twisted-tech guru was allegedly found hanging in a Spanish prison cell on June 23 with a suicidal note in his pocket, as per the reports. For long, he repeatedly insisted that US officials were about to kill him and would make it look like suicide. But now, after his death, he left too many unanswered questions of conspiracy.
The eccentric John McAfee was detained last October at the Barcelona airport. He faced almost three decades in prison for allegedly evading more than $4 million in taxes. He was alleged for several tax evasion charges in the US, which led him to run away from U.S. authorities for several years. In addition, he was charged in a cryptocurrency fraud case in New York, suspected of twisted relationships with underage girls, and creating a new army of drugs.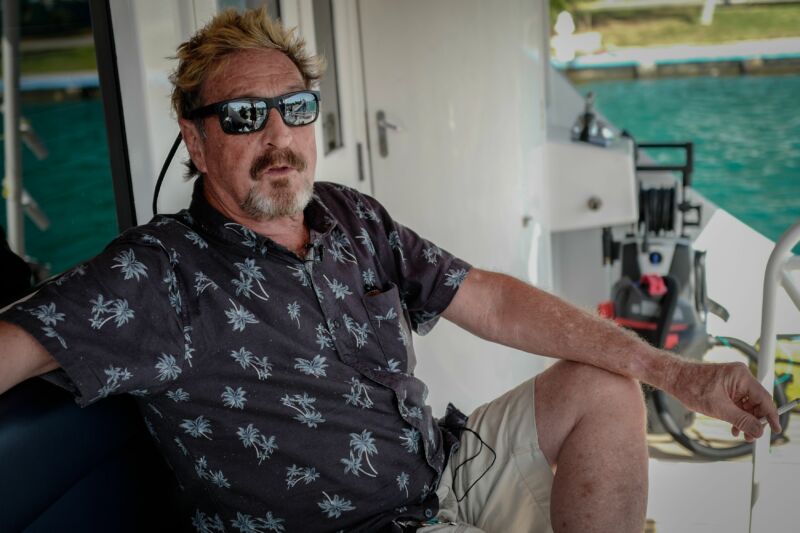 Official Statement on Death of John McAfee
The official autopsy on the body of John McAfee presented that he died by suicide while awaiting extradition to the United States. Prison wardens found the body of McAfee hanging in his cell on Wednesday that hinted be a suicide, McAfee's Spanish lawyer Javier Villalba said last week. He also stated that authorities had not informed the family John about the suicidal note. Her wife requested an independent autopsy. According to her, this autopsy could be framed.
A few days back, John was showing off his "$whacked" tattoo, which gave some clue, but after his death, John's wife, Janice McAfee, took a stand and demanded a thorough investigation of his death on Friday, as she thinks that all this is a part of a conspiracy against him.
She claimed that John did not appear suicidal when they last spoke and shared their last conversation- John's last words to me were 'I love you, and I will call you in the evening.' "Those words are not words of somebody who is suicidal," she added. She also presented her husband's theory about US authorities wanting him to "die in prison" in a message before his body was found.
More about McAfee
Born in Cinderford, UK, he was an extraordinary person with a different mindset who introduced a brilliant anti-virus idea in the tech industry. He faced the rise and fall of his life to the full extent. Being an abusive child till impulsive human, he faced several ups and downs in his life – father's suicide, addiction to alcohol and drugs, and relationships with minors. These all were part of his life.
He worked for big tech companies like NASA, Siemens, and more. Later he developed software to disinfect computers, but he was bound to this, so he quit the company in 1994. 
During the recession, he suffered a huge loss of wealth. To combat this situation and evade tax liability, he left his tycoon life there only and moved to Belize in Central America. But there, his life turned out to be more tragic and much involved in the addiction to drugs and alcohol. The man was known to protect computers disguised himself for several years to protect himself from getting caught for all the charges against him. One day, his neighbor Gregory Faull was found dead, for McAfee was alleged to have done this because he chose to flee from all this rather than cooperate in the investigation. He also showed interest in politics. As a result, he sought the Libertarian Party nomination for the US president twice, in 2016 and 2020, but did not succeed in either. John's life seems like a tragic Hollywood fictional story, but this is real.