The stage is all set. Soon the story unveils the exciting thrill this July. Let's get more into detail. Gunpowder is an upcoming action-packed thriller film. It will be showcasing the exciting story of three strong women of different generations who fights back. Gunpowder Milkshake is directed by Navot Papushado and produced by Alex Heineman, Didier Lupfer & Andrew Rona. The fans are waiting to watch the phenomenal performance of starring character Karen Gillan and speculating the storyline based on the trailer. The movie is much awaited. Some of the fans reviewed the trailer that the story will not be different. It seems more like JohnWick's action sequence, yet it will be a big hit because of Karen Gillan's entry in an action-packed role. Let's dig more from what we have in the bag…
Gunpowder Milkshake Release Date
Gunpowder milkshake will hit the screen on 14th July 2021 in the US. And after a week, it will premiere for international audiences on 21st July 2021. The trailer is already available to the stream, which takes the excitement to the next level. Tie your seatbelts to enjoy this suspenseful story this July. 
The Cast
The cast of Gunpowder Milkshake is trending as the cast comprises the legendary actress elements, as the sisterhood of assassins.
Karen Gillan as Sam, British- American assassins, and Freya Allan as young Sam, we know the popularity of Karen Gillan for  Doctor Who, Nebula, Eleventh Doctor, and many more hits.

Lena Headey as Scarlet, who received international recognition for Game of Thrones co-stars as Sam's mother and the leader of the sisterhood

Angela Bassett as Anna May, an African-American assassin and part of a sisterhood.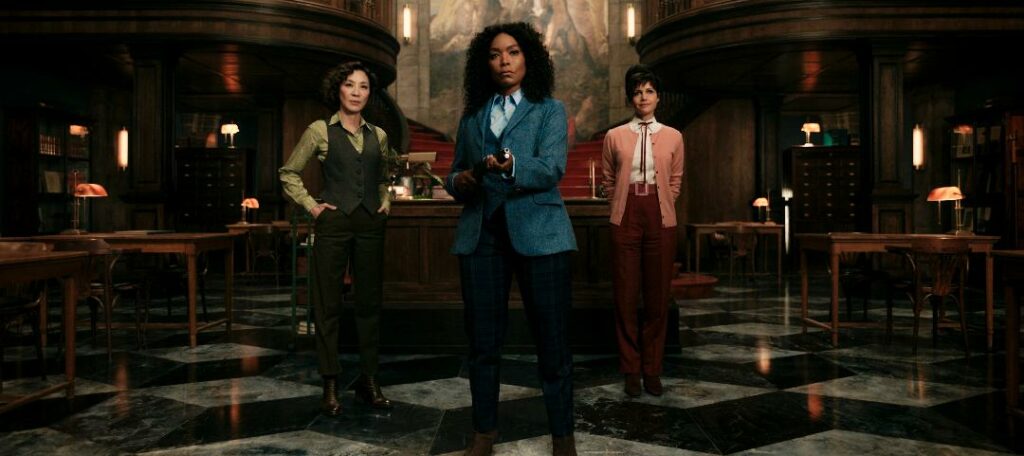 Besides these star characters, we have other strong roles of Michelle Yeoh as Florence, Carla Gugino as Mathilde, Paul Giamatti as Nathan, a crime lord, Ralph Ineson as Jim McAlester, a gangster, Ivan Kaye as Yankee, Adam Nagaitis as Virgil, David Burnell IV as Shocker.
Obviously, the strong actors will come with some new actions, and it will be fun overall.
Gunpowder Milkshake Plot
Gunpowder Milkshake portrays the story of Sam (Karen Gillan), a hitwoman for a company called The Firm, which abandons her mission to rescue a child caught in crosshairs. Sam protects the girl she has to decide to save the life of an innocent girl named Emily (Chloe Coleman). She has only one chance to turn to her estranged mother, Scarlet (Lena Headey), as The Firm decides to take strict actions. These three generations of women are likely to  trust each other, stand up and take stringent actions against those who could take everything from them." As the story continues, they reunite a sisterhood of elite female assassins. The story is not unique, but trio characters are projected to take the excitement to the next level. Will unveil the complete story with the movie only. Till then, we can only predict based on the trailer.
Trailer
The first official trailer for Gunpowder Milkshake is already out. You can enjoy it below.

It projects a story of secret sisterhood, the Librarians, the three strong characters. It depicts the bond of a mother-daughter who took strict action against evil. Later in the story, Sam protects the child, but she herself has not seen her mother in fifteen years. Gunpowder Milkshake is absolutely going to entertain us and turn out to be an exhilarating adventure in the criminal underworld where the bold characters fight back against the crime. Don't forget to watch the movie.
We will be back with more stories- till then, stay connected with us.