Are you waiting for Hospital Playlist Season 2? It is all set to be released! It first premiered in May 2020 on tvN, which is a Korean channel. Once Netflix attained the distribution rights of the show, it turned out to be a hit show in South Korea. It is directed by Shin Won-him and written by Lee Woo-Jung. The last episode was released on Netflix in Asia Pacific, South Korea, and Latin America. The series is about five doctors who have been friends for a more extended period. They have been friends since they got admission to Medical School in 1999. The drama tells the story of people living in the hospital and their friends together for more than 20 years. 
It is a very uncommon series, which has no unnecessary drama and critics. The whole TV show is based on five friends who have been together since their school days. Who does not admire this type of companionship? Once you start this show, you cannot help but complete it! Hospital Playlist has its own fan following, which cannot be mentioned in just a few words. After the massive success of season 1, fans are heartily waiting for Hospital Playlist Season 2. Here comes the good news, will launch the second installment of the series super soon than the fans can imagine. However, here are all the essential details that we know so far: 
Hospital Playlist Season 2 Release Date
Hospital Playlist Season is set to release on 17th June 2021. With this wonderful news, fans are nothing less but happy. There were some assumptions that it would not be released till late 2021 since the filming of the series was delayed because of a pandemic. Nonetheless, in April, the official confirmed that season 2 of the Hospital Playlist would be released on popular South Korea's TV channel tvN. During the time. Previously assumed that the new season would release on Netflix, but it got stuck for some reasons. Netflix has also confirmed the premiere of new episodes on the same day, with one episode releasing per week on Thursday. 
Hospital Playlist Season 2 Cast
The casting of Hospital Playlist Season 2 will remain the same, and most of the characters are from the previous one. The viewers highly appreciate the five lead characters of the series. The main characters are played by: 
Cho Jung-Seok is playing the role of Lee Ik-Joon, who is the assistant professor of general surgery. 

Kim Dae Myung is playing the role of Yang Seok Hyeong, the assistant professor of obstetrics surgery. 

Yoo Yeon Seok is playing Ahn Jeong-Won, who is the assistant professor of pediatric surgery. 

Jeon Mi Do is playing the role of neurosurgery. 

Jung Kyoung Ho is playing the role of Kim Jun Wah, an associate professor of cardiothoracic surgery. 
Other than that, the show will also present Shin Hyun Bin as  Jang Gyeo Wool, Kwak Sun Young as Lee Ik Sun, and Ahn Eun Jin as Chu Min Ha.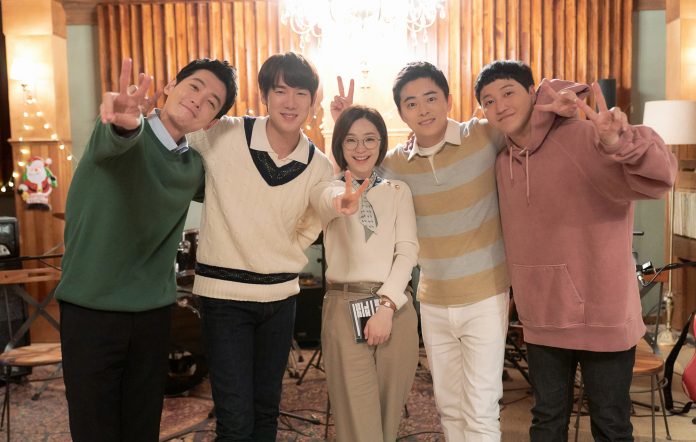 Plot
The Hospital Playlist Season 2 will be about five friends who have been together for more than 20 years. The story will be filled with romance, comedy, friendship, life, medicine, drama, and many more. It will present the story of doctors and their life. Other than last season, Ik Jun, who started feeling for Song Hwa, is finally ready to propose. He started feeling for her for a very long time. So, this season can be a perfect time, and fans can expect to express their emotions and show their love for her. Seok Hyeong is assumed to be happily filled with love in this season. Besides, the duration of the series is yet not confirmed, but the trailer looks appealing to the eyes. So, in short, the series will be crispy, and fans will discover various love stories and relationships. 
Trailer
The trailer of Hospital Playlist Season 2 has been released by Netflix, which again shows the companionship of five friends or doctors who came together in medical school and since they are together. The trailer shows the chaotic life of five friends and the daily hustle and fun of their personal and career lives. In season, there would be more obstacles, and new stories are going to be formed. These five friends are going to support each other in every critical situation in one way or another. So let's get started on this adventure!
Conclusion
Fans are waiting for the whole part and more information; you can continue reading us!