Wouldn't it be interesting if the show's protagonist, instead of being a hero, emerges as evil and murderous? If you're wondering the same, yes, we're talking about the popular anime Youjo Senki also famous as Saga of Tanya the evil. Ever since Youjo Senki bid goodbye to our television screens, fans have not stopped talking about it. The point has come where they are anxiously waiting for the Youjo Senki Season 2. Youjo Senki is a popular Japanese anime in the crime and thriller genre. Carlo Zen writes popular anime, and Shinobu Shinotsuki illustrates its manga. The volumes were first published in 2013, and they first emerged on our television screens in 2017.
The three months curated 12 episodes each of 24 minutes. The show was aired on the two most famous Japanese TV networks KBS and Tokyo's MX Original, and gained immense popularity.
The official Twitter page of Youjo Senki said in 2018 that there would be "ultra-important" news which made fans excited about season 2, but it turned out to be about the movie sequel of the show Saga of Tanya the Evil: The Movie.
The Saga of Tanya the Evil Season 2- What Can We Expect?

Youjo Senki, also famous as Saga of Tanya the Evil, gets its name from the show's protagonist, Tanya Degurechaff, a young little girl with a pure heart. She lives in 1920, where the world is still facing the after-effects of world war. She is a warrior and a part of the Empire's Military.
As the show moves further, we realize that Tanya is the reincarnated soul of a Japanese businessman who was an atheist and questioned the existence of God. Because he disbelieved in God, he did all sorts of evil deeds and met a brutal end.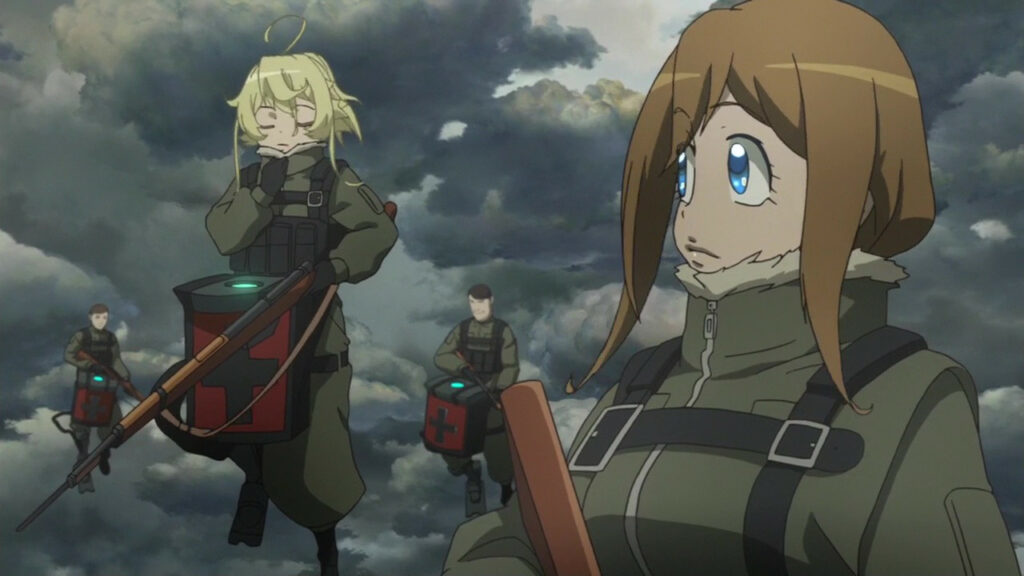 We also saw this man's encounter with a being-X who claims to be God and punish him; Being-X puts him into a cycle of reincarnation.
Tanya now has two options: to have a natural demise or start believing in God else she will send to hell for her sins.
Tanya, in the show, is portrayed as a young girl with the soul of a tough and evil businessman who is clever. When Tanya is admitted into the Army, she gets promoted to the rank of Second Lieutenant because of her excellent fighting skills and cleverness.
This nine-year-old girl fights in the war and, because of her murderous mindset, kills off enemies and proves valuable to the military and her empire.
Tanya, because of her cold behavior, earns the title of "devil of Rhine."
In the last episode, we saw Tanya challenging Being-X. However, instead of making an appearance, he puts all his power into an American girl Mary Sioux.
In season 2, we might see a war between Tanya and Mary. It is also guessed that Mary would lose everything in that war because of Tanya.
Youjo Senki Season 2 Release Date
When season 1 ended on a cliffhanger and a debut movie came in 2019, it made the fans hopeful about season 2. Everyone, including us, was expecting it to be in 2020, but that didn't happen. So now we can expect it to be released in 2021 or late 2022.
Studio nut initially had no plans of a film, but fan demand made them do so. So, do not lose hope if there is no announcement of a second season yet. It might appear soon.
Youjo Senki Season 2 Cast
We are sure that we will see some characters back as themselves, and there might be some new add ons. However, the following will be the same:
Aoi Yukki as Tanya, Shinichiro Miki as Erich von Rerugen. Houchou Ootsuka will be seen as Hans Von Zettour. Saori Hayami will play Viktoriya, and Tessyo Genda will appear as Kurt.
The show's director will again be Yutaka Uemura, and Norifumi Kikujima, Noritomo Isogai, and Takuya Tsunoki will produce the show together.
Will Youjo Senki Return For Season 2?
Any adaptation of a manga into anime is made for the sake of publicity. Therefore, if the audience does not cherish the anime or the manga, the further installments are canceled. However, for Youjo Senki season 2, saying "canceled" would be false as it has a massive public demand.
To make any commitment yet would be wrong as we have mentioned that there is no official announcement yet by the producers. However, the chances are high as the show is already listed among popular shows. The novel series is a hit and the debut season has a rating of 7.7/10.