Here, you will find out everything about A Quiet Place Part II, its releasing date, and also secrets reveals from the trailer.
After A Quiet Place Part I, A Quiet place part II is going to release, which is the sequel of Part I.
A Quiet place goes along with the Lee (Krasinski), Evelyn (Blunt), Marcus (Jupe), and Regan (Simmonds), the Abbott Family. This movie moves around Lee and Evelyn. Who want to protect their children from the sound-sensitive monster that any voice can activate. This movie hits the box office and makes a big noise in the industry.
The role of Evelyn as a brave mother who has to give birth to her child, with the pained noise, is so thought-provoking and steals the show. This movie emanated as a blockbuster movie and earned more than $340 million worldwide and $188 million domestically.
This was the flashback of "A Quiet Place," but now when the releasing date of "A Quiet Place 2" is out now, so let's talk about it.
A Quiet Place part II Releasing Date
A Quiet Place Part II is directed by John Krasinski, who also directs and plays a lead role in A Quiet Place Part I. He will also show up in part II but only in the prequel. This movie was arranged to be released on March 20, 2020, and was all set up with its banners all over New York streets, but due to Covid 19 pandemic, the release was delayed.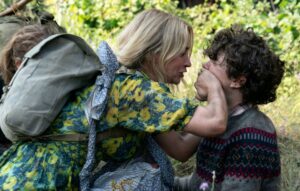 After that, in April 2020, Paramount has announced to release "A Quiet Place Part II" on September 4, 2020, but again it has to be postponed. Because of that, this movie lost most of its followers, and people started to forget its release. But now, Paramount has finally announced to release it on MAY 28, 2021 on the Memorial Day weekend. After a long delay, the release is supposed to be final, with no change in date.
A Quiet place Part II Trailer
We all know that the first trailer of a quiet place 2 was out on January 1, 2020. Now, after a whole year, its second trailer is out, which opens many clues. Here, I'll discuss those clues that reveal many things:
Prequel
The trailer starts with Day 1. Instead of this, its sequel starts with Day 89, which means that a quiet place 2 will be the prequel to A quiet place. The prequel starts with Evelyn in the car with her two children and her youngest son, who was hunted by creatures in the 1st part, is alive, and John, like Lee, is also alive. Moreover, In the coming movie will show the origin of creatures and their purpose of hunting people.
New characters in "A Quiet Place Part II."
Cilliam Murphy and Djimon Hounsou will be introduced in the coming movie. Now, we don't know they are enemies or friends, but probably they were friends. Cilliam Murphy as Emmit will play the lead role like Lee.
The lead role of Regan
Regan is the single daughter of Evelyn and Lee. She didn't have a main or lead role in the sequel. She was brave and scared in the sequel. But the new trailer reveals that the character inside Regan will come out as a brave and heroic girl. At the same time, she will have an important role in the survival of her family.
Sequel
In the trailer, when Evelyn's house is burnt. And she, with her 3 children, moves toward the safe point. Actually, it is a sequel scene of "A Quiet Place." Where the story ended in the house when the monsters attacked them. 
The back story of Emmet
In the trailer, Evelyn reaches Emmet and asks for help. He denied firstly. Then we will see the backstory of his past life. When he left his children, and they were died because of sound-sensitive monsters. As a result of affection, Emmet will help Evelyn's children to make them survive.
Traps
When Evelyn, with her children, moves into the astonishing place, found traps set up by someone who wants to harm them. As we see in the sequel, there was no other enemy than the monsters. But the trailer of "A Quiet place part II" configure that there would be an enemy instead of monsters.
These were the clues from the trailer of "A Quiet Place Part II," we will see what turning point this movie takes after the release. Moreover, for those audiences who don't aim to move out to theaters, Paramount + will launch the film after 45 days of release. So, now you can also enjoy it from home.